HYPNITE-1 Eszopiclone Tablets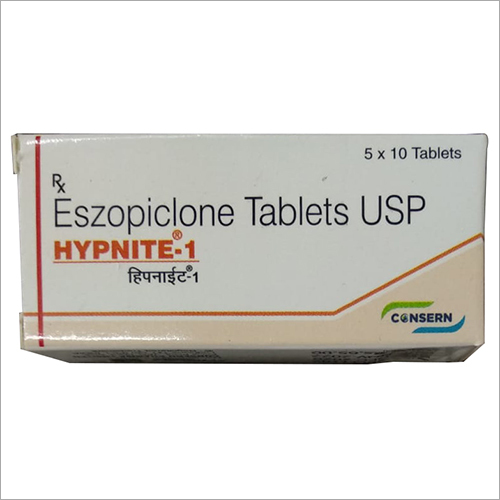 HYPNITE-1 Eszopiclone Tablets
Product Description
Specifications :
Category

Insomnia

Active Ingredient

Eszopiclone 1 Mg Tablet

Brand Name

Hypnite 1

Other brands also available

Dosage

1 mg

Form

Tablets

Manufacturer

Consern Pharma Limited

Packaging

01 X 10 Tablets

Order UOM

1 Pill
INTRODUCTION
Eszopiclone 1 Mg Tablet is used to treat insomnia. It reduces sleep onset time and frequent awakening at night. This medicine improves sleep maintenance and therefore ensures sound sleep.
Eszopiclone 1 mg Tablet should be taken on an empty stomach, preferably before going to bed. However, it is advised to take it at the same time each day as this helps to maintain a consistent level of medicine in the body.

USES OF ESZOPICLONE TABLET
Insomnia

BENEFITS OF ESZOPICLONE TABLET
In Insomnia

Insomnia is a common sleep disorder in which there is difficulty in falling or staying asleep at night. Eszopiclone 1 mg Tablet helps treat insomnia as well as improves the quality of sleep. Eszopiclone 1 mg Tablet works by slowing activity in the brain to allow sleep. This helps you relax and feel more energetic. It also helps you concentrate better and improves your quality of life.

HOW TO USE ESZOPICLONE TABLET
Take this medicine in the dose and duration as advised by your doctor. Swallow it as a whole. Do not chew, crush or break it. Eszopiclone 1 mg Tablet is to be taken empty stomach.

HOW ESZOPICLONE TABLET WORKS
Eszopiclone 1 mg Tablet belongs to a group of medicines called sedative-hypnotics. It works by slowing activity of the nerve cells in the brain and helps fall asleep.

SIDE EFFECTS OF ESZOPICLONE TABLET
Most side effects do not require any medical attention and disappear as your body adjusts to the medicine. Consult your doctor if they persist or if youre worried about them

Common side effects of ESZOPICLONE :
Sleepiness
Dizziness
Headache
Taste change
Dryness in mouth
Rash
Anxiety
Hallucination
Respiratory tract infection
Viral infection
Contact Us
H. NO.9642/2, WASUDEO COMPLEX, W. NO. 20, UMRER, Nagpur, Maharashtra, 441203, India
Phone :+918045812016